108.8mm 4X4 Dot Matrix Display

Model: SZ418044
Description:
Part No: SZ 2/18044
Features
4 inch matrix height.
Dot size 20mm.
Pitch 27.2mm
Low current operation.
High contrast and light output.
Stackable horizontally.
Column cathode and column anode available.
Easy mounting on P.C. boards or sockets.
Multicolor available.
Mechanically rugged.
Standard: black face, white dot.
RoHS compliant.
Package Dimensions& Internal Circuit Diagram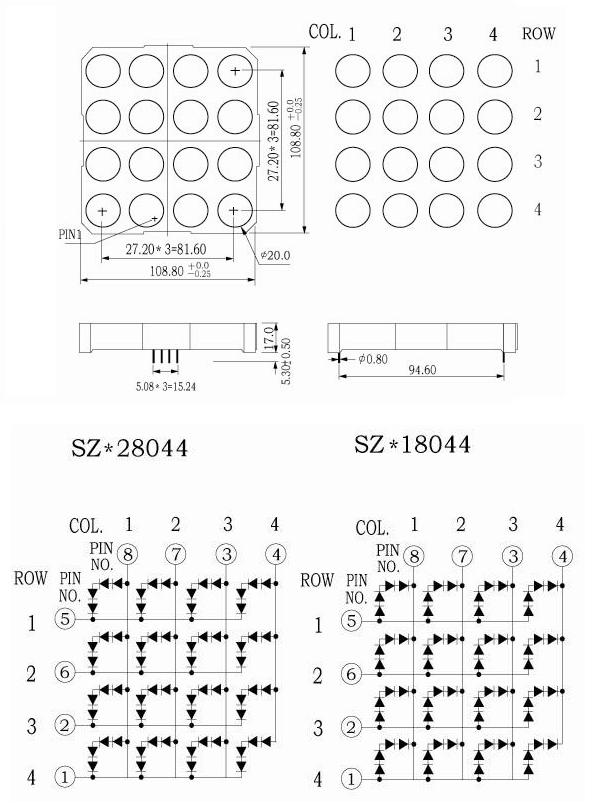 Notes:
1. All dimensions are in millimeters (inches), Tolerance is ±0.25(0.01")unless otherwise noted.
2. The specifications, characteristics and technical data described in the datasheet are subject to change without prior notice.
Previous Product:none
Wuxi Ark Technology Electronic Co.,Ltd.
Add:NO.6 Yulong Road,ZHANGZHU TOWN,YIXING CITY,JIANGSU PROVINCE,P.R.CHINA
Tel:86-574-86308393
Fax:86-574-86308394
Email:
ark@arkled.net
Web:
http://WWW.ARKLED.NET